We keep a number of leaflets for local attractions, along with maps for you to browse through at your leisure. Here are some of the most popular local destinations for visitors:
Kilkenny City

Kilkenny Castle



A 12th century castle remodelled in Victorian times and set in extensive parklands which was the principal seat of the Butler family, Marquesses and Dukes of Ormonde. Due to major restoration works, the central block now includes a library, drawing room, and bedrooms decorated in 1830s splendour as well as the beautiful Long Gallery. The old Castle kitchen operates as a tea room during the summer. A suite of former servants' rooms is the Butler Art Gallery, which mounts frequently changing exhibitions of contemporary art. Access for visitors with disabilities to ground floor and gardens only.

Kilkenny was Ireland's Mediaeval Capital and is the best presented Norman City. It contains perhaps the largest concentration of Mediaeval Churches in the Country.
Rothe House



Rothe House Parliament Street, Kilkenny - Rothe House was built in 1594 by John Rothe for his wife Rose Archer. Consisting of three cut stone buildings divided by cobbled courtyards, it is the headquarters of Kilkenny Archaeological Society. The complex is the only one of its type remaining in Ireland. Rothe House is home to an interesting museum collection, oak furniture and costume gallery among many items of interest in addition to the house itself. Tours lasting 30/40 mins are provided when booked in advance. Phone +353 56 22893

St. Canice's Cathedral

St. Canice's Cathedral. Site of Christian worship since the mid Sixth century, this outstanding mediavel cathedral and 9th century round tower form the heart of Kilkenny, giving the city its name.The Round Tower may be climbed (weather permitting) and gives great views of the city. Completed in 1285, it is the second largest cathedral in Ireland. On display are rich and varied mediaeval carvings by Rory and William O'Tunney. Other carvings, some dating from the 13th century, together with wood, brass and stained glass adornment are of interest.

Kilkenny Design Centre

Kilkenny Design Centre Located in the old stables and coachhouse opposite Kilkenny Castle, the Kilkenny Design Centre has a most extensive range of Irish craft products. Here you will find ladies' and men's clothing, crystal, ceramics, linens and a wide range of interesting gift items from all over Ireland.

Black Abbey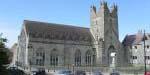 Black Abbey (AD 1225). Still in use today by members of the founding Dominican Order. Nearby is Saint Francis Abbey, now lying within the grounds of the large Smithwicks Brewery.
St John's Priory



St John's Priory, John Street. Once known as the Lantern of Ireland because of its slender and elegant windows.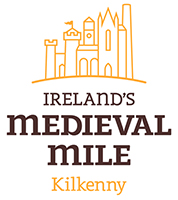 Medieval Mile Museum - Opened in 2017 - ask us for details of this and the Smithwick's Experience Brewery Tour - both ideal for rainy days.
Places to visit in County Kilkenny:

Jerpoint Abbey



Located on the banks of the River Arrigle about 2km from Thomastown, Co. Kilkenny, Jerpoint Abbey was founded in 1158. In Medieval times there was a town of Jerpoint but this had fallen into ruin by the seventeenth century.

Jerpoint Abbey is regarded as one of the most interesting Cistercian ruins in Ireland. It offers a unique insight into the lives of the monks because many of its domestic arrangements are still recognisable. The abbey was self-sufficient and had its own gardens, watermills, cemetery, granary and kitchens. The oldest parts of the abbey are the Irish-Romanesque transepts and chancel, which contains faded wall paintings. The east window dates from the fourteenth century and the fantastic central tower was added in the fifteenth century.

Dunmore Cave



Dunmore Cave is 11 kilometres north of Kilkenny city and, like other caves across the country, is formed by limestone which was laid down over 300 million years ago. It contains 3 passages, almost a quarter of a mile of passages and at its deepest point is 150 foot below the surface. Although this is smaller than many of the caves around the country, the beauty and magic of its calcite formations as well as its scientific and historical interest make it one of Ireland's most fascinating caves. Its presence has been known for years but it is only recently that attempts have been made to unravel its history. In AD 928, the Dunmore Cave was the site of a Viking massacre. Mention of the cave was made in the ninth century Irish Triads.

Castlecomer Discovery Park is 10 mins from us. Craft Yard & museum. Tree-Top Adventure Walk, Boating, Elf & Fairy Village and more. A whole day of fantastic activities to be experienced for visitors of all ages.

Woodstock House



Situated behind the village pump on the hill in Inistioge village, Woodstock Heritage Museum houses an eclectic collection of photographs,documents, artefacts and memorabilia pertaining to Woodstock Demesne, its history and people, the burning of the house and recent restoration project, returning the once famous gardens to their original glory.